Overview
When adventure strikes, the right bag makes all the difference. Too often, however, luggage bags are either large, ponderous suitcases or small, flimsy duffle bags. I have traveled to Central and South America multiple times with terribly large suitcases. It added extra complication to my trip—especially lugging the bag up the steps! This is the problem which LL Bean seeks to rectify in the
LL Bean Extra-Large Rolling Adventure Duffle.
With a 137-liter capacity, this duffel is able to hold the items of the biggest pack-rat while being easy to transport. It features a telescoping handle, smooth-gliding wheels, and cinch straps.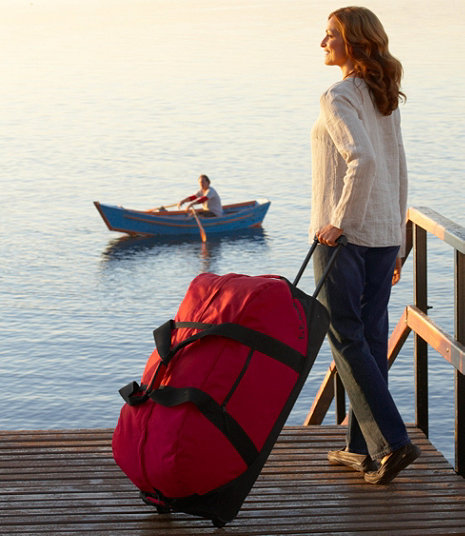 Specifications
Capacity: Approx. 8,350 cu. in., 137 L.
Weight: 9 lb. 3 oz.
Dimensions: 17"H x 34"W x 15"D.
Highlights
This bag is sturdy. Not only is it capable of holding many items, but it is incredibly durable. It has a reinforced nylon bottom and a thick plastic frame so that the bag does not sag or become weak.
The bag is dubbed "extra-large," so it should be able to easily fit your clothing, shoes, and toiletries. (Don't expect it to fit everything for a long trip, though. You should still bring a backpack or carry-on bag!)
LL Bean offers this product in a variety of colors. I own the Light Grey Heather bag (see image to the right), which is a slick, patterned design. It is modern yet modest, and its uniqueness makes it easier to identify in airports.
The exterior is water-resistant, so you don't have to worry when you realize that your plane has landed in a wet climate.
Lowlights
The large size of the bag may not meet the requirements for some airlines. It is likely too large for a carry-on, as well.
The bag is heavy when full; however, the rolling features certainly alleviate much of the weight.
At $140, it is an expensive bag, but given its size and construction, it is well worth the money.
What Can You Fit?
So, just how spacious is this extra-large duffle? Here is what I was able to fit into the bag:
10 T-shirts
3 pairs of shorts
3 pairs of pants
2 towels and washcloths
Undergarments
Hat
2 pairs of shoes (1 sandal, 1 hiking)
Swimsuit
Toiletries
Conclusion
Here are my overall ratings for this product (on a five-star scale):
Functionality: ★★★★☆
Design: ★★★★☆
Value: ★★★☆☆
For those looking for adventure, the
LL Bean Rolling Adventure Duffle
may just be the right luggage bag to bring with you. This bag is large enough to keep all which you desire to bring along while not being cumbersome. I recommend this bag for people who travel on the road, hikers and campers, and the occasional airline flyer. I'm off to the Middle East in a few weeks, and I'll certainly be using this on my escapades.
Given its size, the Rolling Adventure Duffle may be better suited for non-flight purposes—but there are certainly many opportunities which would call for this item. It is ideal for overnight trips, hiking expeditions, and short domestic flights. I particularly recommend the Light Grey Heather color for those interested in adding a subtle twist to their travel designs.
Buy it today!
https://www.llbean.com/llb/shop/63917?page=rolling-adventure-duffle-extra-large&bc=50-516673-904&feat=904-GN3&csp=f